Katsuaki SUGIURA,
Professor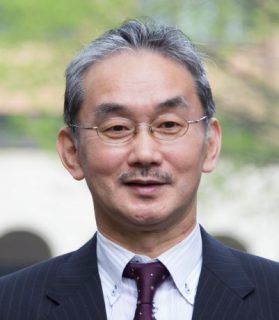 ・Department of Global Agricultural Sciences, Graduate School of Agricultural and Life Sciences, The University of Tokyo
・Laboratory of Global Animal Resource Science
Contact information
Phone +81 3 5841 5383
>>EMAIL
Employment history
| | |
| --- | --- |
| 1997-1999: | World Organisation for Animal Health (OIE) |
| 1999-2003: | Director for International Animal Health Affairs, Ministry of Agriculture, Forestry and Fisheries |
| 2003-2005: | Food Safety Commission Director for Information and Emergency Response |
| 2005-2007: | Director for Animal Production Food Safety, Ministry of Agriculture, Forestry and Fisheries |
| 2007-2011: | Vice President, Food and Agricultural Materials Inspection Center |
| 2011-present: | The University of Tokyo |
Discipline(s)
Epidemiology; Infectious Disease Modelling; Import Risk Assessment; Antimicrobial Use and Resistance
Research interests
Research background
Today we are faced with many animal health and zoonotic problems. Unprecedented movements of animals and people and movement of migratory birds enable pathogens of animal and zoonotic diseases to move internationally, resulting in a big economic damage in livestock industry and a big public health concern in the world. My interest is to solve these problems using epidemiological approach.
Our research
The current research topics that my colleagues and I are involved in are import risk assessment of animals; veterinary antimicrobial use and selection of resistant bacteria; and epidemiology of small animals using insurance data.
Major publications
Kwan, N.C.L.,Ogawa, H., Yamada, A., Sugiura, K. QUantitative risk assesment of the introduction of rabies into Japan through the illegal landing of dogs from Russian fishing boats in the ports of Hokkaido, Japan. Prev. Vet. Med. 28:112-123, 2016
Tojinbara, K., Sugiura, K., Yamada, A., Kakitani, I., Kwan, N.C.L., Sugiura, K. Estimating the probability distribution of the incubation period for rabies using data from the 1948-1954 rabied epidemic in Tokyo, Prev. Vet. Med. 123: 102-105, 2016
Sugiura, K., Haga, T., Onodera, T. Estimating the BSE infection and detectable prevalence in cattle born after 2000 in Japan. Prev. Vet. Med. 115:191-7, 2014.
Sugiura, K., Benedictus, A., Hogeveen, H. Effectiveness of the BSE interventions in Japan. Prev. Vet. Med. 117:295-300. 2014.
Hosoi, Y., Asai, T., Koike, R., Tsuyuki, M., Sugiura, K. Sales of veterinary antimicrobial agents for therapeutic use in food-producing animal species in Japan between 2005 and 2010. Rev. sci. tech. Off. int. Epiz., 2014, 33: 1007-1015, 2014.
Hosoi Y, Asai T, Koike R, Tsuyuki M, Sugiura K. Use of veterinary antimicrobial agents from 2005 to 2010 in Japan. Int J Antimicrob Agents. 41:489, 2013.
Yamazaki, M., Inoue, M., Sugiura, K. Assosiation between age, breed and sex in relation to urinary disorders in insured cats in Japan during fiscal year 2012. J. Vet. Med. Sci. 78(9): 1521-1524, 2016.
Inoue, M., Hasegawa, A., Sugiura, K. Describing the morbidity pattern by age, sex and breed in insured cats in Japan during 2008-2013. J Feline Med. Surgery. (Epub ahead of print)
Inoue, M., Hasegawa, A., Sugiura, K. Association between breed, gender and age in relation to cardiovascular disorders in insured dogs in Japan. J Vet. Med. Sci. 78(2): 347-50, 2016
Inoue, M., Hasegawa, A., Hosoi, Y., Sugiura, K. A current life table and causes of death for insured dogs in Japan. Prev. Vet. Med., 120: 210-218, 2015.
Inoue M, Hasegawa A, Hosoi Y, Sugiura. Breed, gender and age pattern of diagnosis for veterinary care in insured dogs in Japan during fiscal year 2010. Prev Vet Med. 19:54-60. 2015