Akihiko KAMOSHITA,
Associate Professor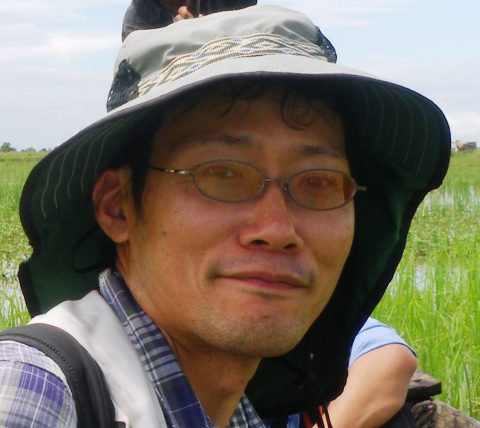 Asian Natural Environmental Science Center
Laboratory of Regional Resources Reassessment
Phone +81-42-463-1696
>>EMAIL
Discipline(s)
Crop Science, Agroecology, Rice Science, Sustainability Science
Research interests
My research interest is firstly mechanisms of crop production in relation with resource utilization, responses to climate, and adaptation to abiotic stress under various environmental and managemental conditions. I am interested in rice and water: rice is a staple food in Japan and in many Asian countries but also as a crop and food getting increasingly produced and consumed globally outside Asia. I am currently working on water-saving rice production and improvement of drought resistance of rice.
My second research interest is diversity and heterogeneity of agroecosystems in both large and small scales. The heterogeneity of agroecosystem within a target area is small scale environmental variation, which would be related with success and failure of extension of new technologies, becoming as a source of gap between farm yield and potential yield. I have been investigating diversity of rice ecosystems such as rainfed lowlands, deepwater rice, tank irrigation rice and delta rice.
My third research interest is sustainability science; one example of sustainability science approach is to apply both crop production science and agroecology in the same target region. We worked before on sustainability of irrigated fields rehabilitated after the war during Pol Pot time in Cambodia by investigation of spatial variation in rice production and weed species diversity. Another attempt for sustainability science is to study people's perception about agriculture and rural. We include children too as they will participate in creating future societies.
I hope to contribute to the peace of global and regional societies through academic knowledge generation for crop, environment, and sustainable agriculture.
Major publications
Suwanmontri P, Kamoshita A, Jongdee B, Fukai S, Kishino H (2018) Comparative analysis of farmers engaged in participatory research to cope with climate change versus non-participants in Northeast Thailand. Plant Production Science 21, 287-301
Ramalingam P, Kamoshita A, Deshmukh V, Yaginuma S, Uga Y (2017) Association between root growth angle and root length density of a near-isogenic line of IR64 rice with DEEPER ROOTING 1 under different levels of soil compaction, Plant Production Science 20, 162-175.
Deshmukh V, Kamoshita A, Norisada M, Uga Y (2017) Near-isogenic lines of IR64 (Oryza sativa subsp. indica cv.) introgressed with DEEPER ROOTING 1 and STELE TRANSVERSAL AREA 1 improve rice yield formation over the background parent across three water management regimes. Plant Production Science 20, 249–261
Nguyen YTB, Kamoshita A, Dinh VTH, Matsuda H, Kurokura H (2017) Salinity intrusion and rice production in Red River Delta under changing climate conditions. Paddy and Water Environment 15, 37-48.
Kamoshita A, Ikeda H, Yamagishi J, Lor B, Ouk M (2016) Residual effects of cultivation methods on weed seed banks and weeds in Cambodia. Weed Biology & Management 16, 93–107.
Kamoshita A, Ouk M 2015 Field level damage of deepwater rice by the 2011 Southeast Asian Flood in a flood plain of Tonle Sap Lake, Northwest Cambodia. Paddy & Water Environment 13, 455-463.
Kamoshita A, Araki Y, Nguyen YTB 2014 Weed biodiversity and rice production during the irrigation rehabilitation process in Cambodia. Agriculture, Ecosystem & Environment 194, 1–6.
Kamoshita A 2013. Chap. 9. Choosing agricultural production systems –From view point of regional agricultural sciences. In "Asian Natural Environmental Sciences" Asian Natural Environmental Science Center (Ed.), Universtiy of Tokyo Press, Tokyo.
Kamoshita A., 2011. Current researches on drought resistance of rice (Oryza sativa L.). Japanese Journal of Crop Science 80, 1-12.
Nishizaka R., Hori S, Kamoshita A. 2011. Landscape recognition by the students of Battambang, Cambodia – Analysis of landscape description at rural areas under development. Journal of Rural Planning Association 30, 219-224.
Kamoshita A, Babu RC, Boopathi NM, Fukai S 2008 Phenotypic and genotypic analysis of drought-resistance traits for development of rice cultivars adapted to rainfed environments Field Crops Res. 109, 1-23.