As a part of the educational and research collaboration with the University of Bonn, we organize an International Symposium as below.
"One Health approach for Africa and Asia —- On-site innovation in health, nutrition, and agriculture for rural communities — "
Date and time : 22 March 2017 (Wednesday) 17:00-20:30
Venue : Nakashima Hall, Food Science Building, Faculty of Agriculture
One Health in a Global Environmental Change environment
          Christian Borgemeister, Managing Director, Professor,
          Centre for Development Research (ZEF), University of Bonn, Germany
Positive deviance approach for infectious disease control: Behavior change or social change?
          Masamine Jimba, Professor,
          Graduate School of Medicine, University of Tokyo
One Health approach to the control of neglected tropical diseases with special attention on Leishmaniasis in Asia
          Chizu Sanjoba, Assistant Professor,
          Graduate School of Agricultural and Life Sciences, University of Tokyo
Resilience enforcement for health-nutrition-agriculture in Africa and Asia
          Hirotaka Matsuda, Associate Professor,
          Graduate School of Frontier Sciences, University of Tokyo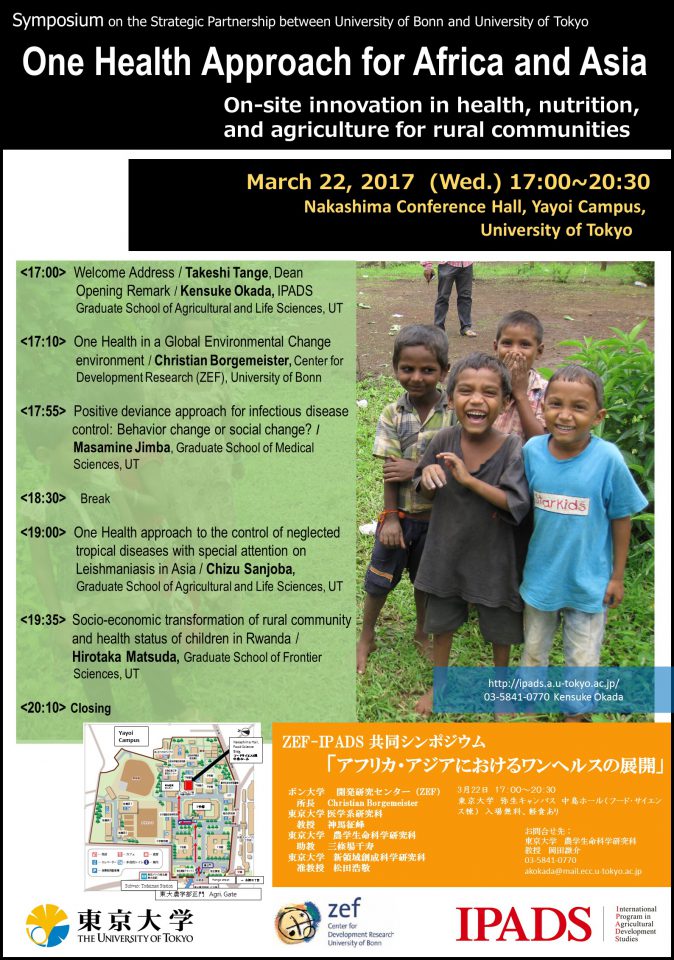 ======
All who are interested in the topics are most welcome.
For more nformation:
Kensuke Okada, Professor
03-5841-0770