Doing fieldwok in Africa
IPADS is global for the students' background and their research fields.

Jaya Nepal, a Nepalese graduate student at the 2nd year Master's program in IPADS has worked at Kamboinse, near the capital Ouagadougou in Burkina Faso since June 2018. He is conducting a field experiment for his research "Calibration and validation of APSIM*-Sorghum model in the yield response to phosphorus fertilizers in the semi-arid conditions" under the supervision of Professor Kensuke OKADA. His research is a part of SATREPS (Science and Technology Research Partnership for Sustainable Development) project on "Establishment of the model for fertilizing cultivation promotion using Burkina Faso phosphate rock".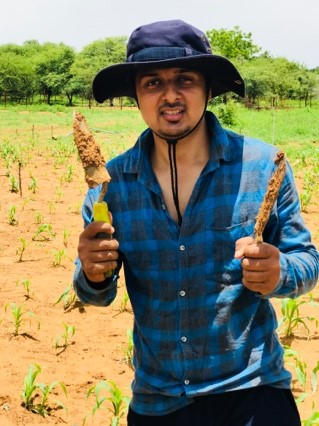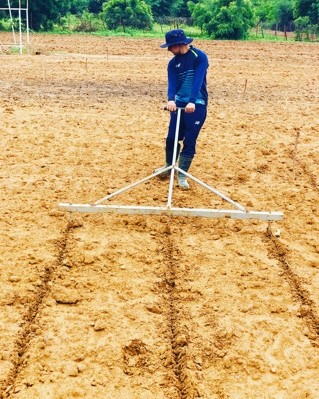 ===
The overall project goal is to establish a model for enhancing agricultural production using local phosphate rock in Burkina Faso. I am conducting a field experiment in Kamboinse research station under the direct supervision of Professor Serme Idriss of Institut de l'Environnement et de Recherches Agricoles (INERA) and assisted by a Burkinabe student, Mr. Armand Bateinon.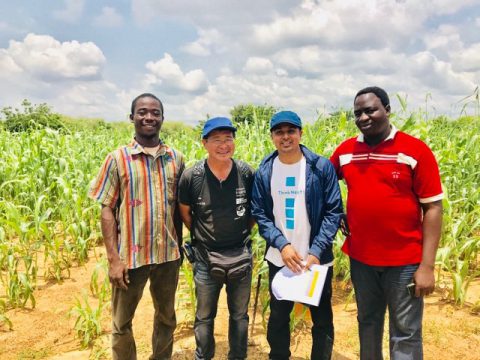 My ideas are i) to test the suitability of the different levels of both commercial
phosphorus fertilizer (TSP) locally processed
calcinated phosphate rock fertilizer (Ca-PR), ii) to integrate it to a model that can assist the farmers to make rational decision on farming options, and iii) to make
recommendations to the government of Burkina Faso at both regional and national levels. I have grown sorghum in 36 plots with different levels of treatments of phosphorus fertilizers. The crops entirely depend on rainfall. The sowing was completed on July 17th 2018. So far, we have finished agronomic activities such as field preparation, fertilizer application, sowing, thinning and gap-filling, weeding, hoeing, side dressing of fertilizers. We also collected variety of data: on soil, plants, phenological parameters, height and diameter of plants, and the daily weather data throughout the growing period.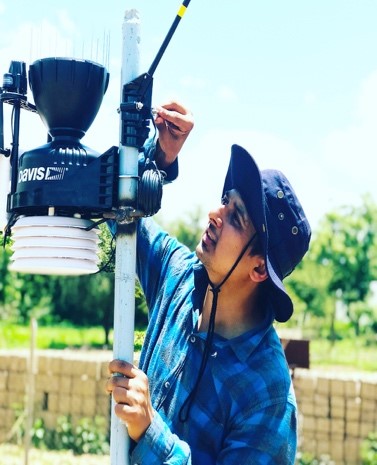 We are expecting to harvest in a week i.e. at the end of October. Although, in the preliminary observation, it was not obvious to see the clear effects of fertilization due to the spatial variability, the crop growth in fertilized plots was better than the control plots and inherent deficiency of phosphorus in the soil was suggested. Plots fertilized with TSP responded better than Ca-PR. However it is premature to come to the conclusion without complete data analysis. Preliminary observation revealed that the medium doses of Ca-PR seem to be better than the highest doses. Also, we will further need to calibrate the model by conducting experiments under controlled conditions.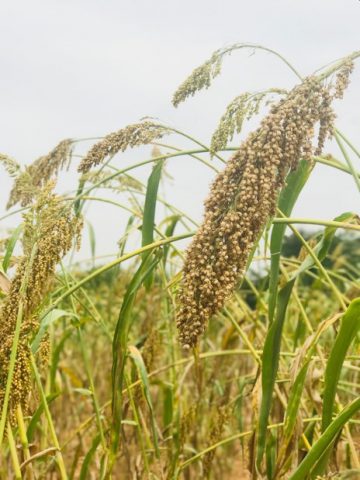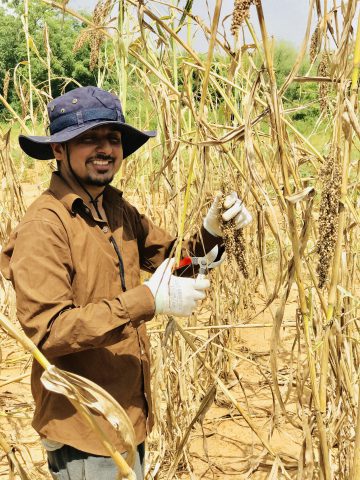 *APSIM: Agricultural Production Systems sIMulator
===
About fieldwork in an unfamiliar environment, I would say it's challenging, especially to get use to new environment. Communication is not always easy because of language obstacle. But all these make life interesting. After I met my professor and my student partner here, things have been progressing smoothly. I couldn't learn enough French before coming, so communication is still an issue. You have to be very flexible at times in these conditions. I feel that I have learned so much since coming here from the people, professors and researchers in the field. I have realized the need, and at the same time, potential of African agriculture.
Here people are lively and friendly. Every person whom I have greeted "Bonjour!" replied to me with a big smile on their face. So, I would say it was quite challenging at first but became more exciting and eye-opening experience overall. It's a wonderful opportunity for me to be a part of this SATREPS project in Africa and I cherish every moment. The only thing I would recommend to a new student who is planning to go to Africa is to learn their main language (French in my case). That would make life much easier and exciting.
<PROFILE>
Jaya NEPAL
MEXT scholarship awardee, enrolled in IPADS Master's program in September 2016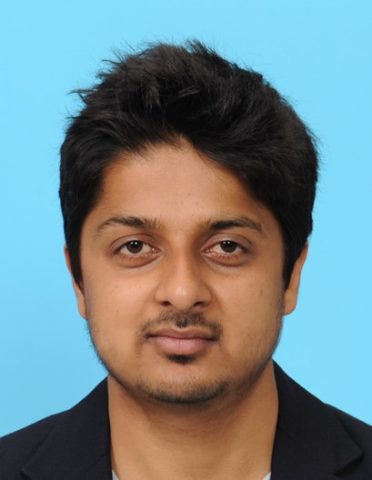 Country  of origin :  Nepal
Laboratory : International Agricultural Development Studies (LIADS), IPADS
Favorite pass-time in Tokyo : eat-out, karaoke, walking near-by Yanaka area
Future plan : I come from a mountainous country, Nepal, where agriculture is the main livelihood for the majority of the people. Thus my overall goal is to contribute in the field of agriculture to my country, and to other developing countries. I want to conduct my future research(es) in improving the quality and fertility of soil using modern technologies and sustainable soil management practices such as "Crop modelling", "Site Specific Nutrient Management (SSNM)" etc.  As 'soil' is the base of agriculture, I believe that it is important to study in depth about soil in order to conserve and utilize the limited soil resources that we possess. Especially in our country, a large proportion of soil is in the hills, so the scope of agricultural expansion would depend so much on how we can utilize these soils to produce crops. There are great potentials and challenges, which make me excited. Having said that, my immediate plan is to complete my Masters' research and hopefully continue to PhD in the field of crop and soil science. So, one step at a time.