Application for October 2023 intake (Round one) has been opened.
Deadline for online application :
24 October 2022 for Round One screening
15 February 2023 for Round Two screening
For master's and doctoral program, access the online application system through the following pages.
Please go through the page to the end and enter the application form by clicking "I Agree" button at the end of the page.
| | |
| --- | --- |
| HOW TO APPLY MSc | >> |
| HOW TO APPLY PhD | >> |
We consider the application for the University of Tokyo Fellowship and MEXT University Recommendation Scholarship in Round One selection only.  Among successful applicants in Round One selection who meet eligibility criteria for each funding opportunity, a limited number of applicants with excellent academic record will be selected and recommended to the University for the former and the Ministry for the latter respectively. Applicants who have admitted in IPADS in Round One selection but failed the screening of UTokyo fellowship and MEXT University Recommendation Scholarship will still be considered for entrance as a privately-financed student.
Applicants intending to apply for Joint-Japan/World Bank Graduate Scholarship Program (JJWBGSP) , please access the online application system from the following page.
| | |
| --- | --- |
| HOW TO APPLY MSc_JJWBGSP | >> |
IPADS has been chosen as one of the participating MSc programs by the Joint Japan/World Bank Graduate Scholarship Program (JJWBGSP) . JJWBGSP is open to women and men from developing countries with relevant professional experience and a history of supporting their countries' development efforts who are applying to a master degree program in a development-related topic.
MSc applicants for IPADS October 2023 intake who intend to apply for JJWBGSP scholarship must apply for IPADS and JJWBGSP separately. First, they should apply to IPADS, pass the screening and receive a certificate of unconditional admission. Then, successful applicants in IPADS can apply for JJWBGSP through the World Bank's official website.
IPADS will not be submitting the application to the World Bank on behalf of the applicants.
Please note that being admitted in IPADS DOES NOT guarantee any spot in the JJWBGSP. JJWBGSP will conduct their screening separately from that of the IPADS process.
According to the World Bank website as of June 23, 2022, followings are the eligibility criteria;
++++++++++++++
Who is Eligible to Apply for JJWBGSP?
Details on Eligibility Criteria for each call for applications are provided in that call's Application Guidelines, and these detailed eligibility criteria are strictly adhered to. No exceptions are made.
Broadly speaking, Developing Country nationals must:
Be a national of a World Bank member developing country on this list;

Not hold dual citizenship of any developed country;

Be in good health;

Hold a Bachelor's (or equivalent) degree earned at least 3 years prior to the Application Deadline date;

Have 3 years or more of recent development-related work experience after earning a Bachelor's (or equivalent) degree;

Be employed in development-related work in a paid full- time position at the time of submitting the scholarship application. Have at least 3 years of paid development-related employment since earning a Bachelor's degree (or equivalent university degree) and acquired within the past 6 years from the date of the Application Deadline. Please see FAQs on how to count qualified part time employment toward this 3-year requirement. Please see Annex 2 of the Application Guidelines for a suggested list of development-related topics. The only exception to this criterion is for developing country nationals from a country that is on the list of Fragile and Conflict States featured in Annex 3 of the Application Guidelines. In these exceptional cases, we do take into consideration the limited employment opportunities in those countries listed in Annex 3.

On or before the Scholarship Application Deadline date, be admitted unconditionally (except for funding) for the upcoming academic year to at least one of the JJ/WBGSP participating master's programs located outside of the applicant's country of citizenship and country of residence listed at the time the call for scholarship applications opens. The letter of admission must be uploaded before submitting your application. For details, see "How to Apply".

Not be an Executive Director, his/her alternate, and/or staff of any type of appointment of the World Bank Group or a close relative of the aforementioned by blood or adoption with the term "close relative" defined as: Mother, Father, Sister, Half-sister, Brother, Half-brother, Son, Daughter, Aunt, Uncle, Niece, or Nephew.
Please note: All eligibility criteria are strictly adhered to. No exceptions are made. Eligibility criteria WILL NOT change during an open call for applications. However, this information is subject to change between the close of one application process and the opening of the next.
++++++++++++++
For more details about JJWBGSP application process, please check;
https://www.worldbank.org/en/programs/scholarships#3
Countries eligible for JJWBGSP scholarship;
https://www.worldbank.org/en/programs/scholarships/brief/countries-eligible-for-jjwbgsp-scholarship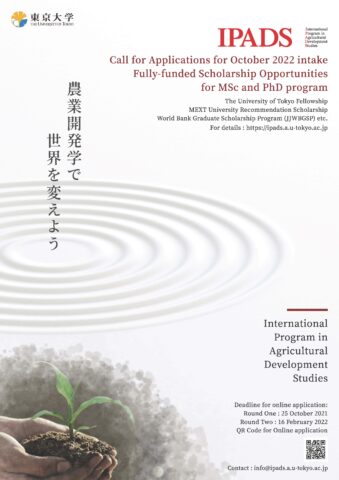 IPADS poster designed by Lin (Charles) Kaigen, 3rd year PhD student