"To take advantage of the interdisciplinary and international features of the IPADS program, open-mindedness and intellectual curiosity are among the important characteristics we expect of students who want to enroll in this program."
Interview with Professor Kazuhiko Kobayashi, one of IPADS' "founding fathers".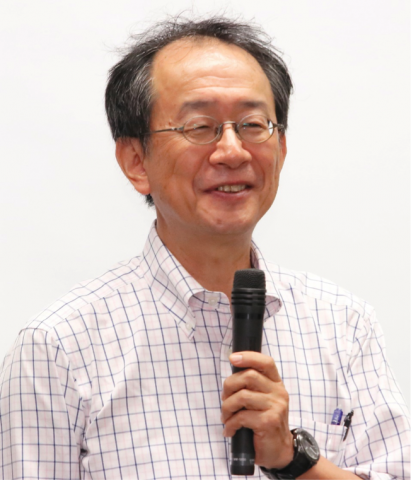 Dear Professor Kazuhiko Kobayashi, as you are one of the founding fathers of the University of Tokyo's International Program in Agricultural Development Studies (IPADS). So how did the program start?
The Graduate School of Agricultural and Life Sciences of The University of Tokyo has a long tradition of accepting PhD students from other countries (most of them from East and Southeast Asia), but had only a very limited number of international students in its Master's programs. Actually, we did not have a specific program addressed to Master's course students in English. The PhD students, by comparison, could be easily accommodated in the existing programs with the main thrust being research rather than course work. In 2009, the Ministry of Education, Culture, Sports, Science and Technology of Japan started a program to globalize its country's universities. They did so by financially supporting universities in opening-up graduate education programs in English. The University of Tokyo applied to that program and received funding for setting up graduate education programs in several schools including the Graduate School of Agricultural and Life Sciences. This is how we started the IPADS Master's course in 2009, and began taking in students in October 2010. It was frankly a jump-start, but I believe we made a good start toward the right direction. Indeed, we had many encouraging comments from our long-term partners across Asia during the program-design workshop held in March 2010. In 2012, we also started PhD courses at IPADS to further our efforts toward an interdisciplinary and international education in agricultural development.
What are the main reasons why students interested in agriculture-related topics should come to IPADS to study?
IPADS is the first graduate program in the Graduate School of Agricultural and Life Sciences which is run entirely in English. The program tries to prepare students for becoming global leaders in the agricultural sector who are able to find solutions to various agricultural, environmental, and resource management issues in developing countries. Students will engage in a truly interdisciplinary curriculum filled with latest research findings from all sub-disciplines of agriculture, encompassing both natural and social sciences. As fully integrated members of the Department of Global Agricultural Sciences which belongs to the Graduate School of Agricultural and Life Sciences, students will have many opportunities to participate in seminars and international symposia, and to work collaboratively with faculty professors and students, including those from the School's other departments and graduate programs.
What should student who want to join and apply for IPADS bring along in terms of qualifications and characteristics?
The applicant needs to possess an excellent academic record and have a sound plan for Master's research that suits the program's philosophy. Other requirements include a Bachelor's degree or equivalent and English proficiency sufficient to participate in studies at graduate level. To take advantage of the interdisciplinary and international features of the IPADS program, open-mindedness and intellectual curiosity are among the important characteristics we expect of students who want to enroll in this program.
You are specialized in sustainable agriculture and agricultural climate adaptation. So in this field what can students expect to learn?
The students will learn that both issues require a multi-dimensional understanding at variable temporal-spatial scales. The issue of agricultural adaptation to climate change could serve as an example: Adaptation is often understood as a purely technical issue, e.g. the use of new chemicals against changing climate as a possible solution. However, such a narrow view can lead to temporal ameliorations only, if any at all. Moreover, it could lead to increasing pressure on climate change and eventually to failure or, even worse, to a delay in taking a more fundamental and effective approach in agronomic practices, such as adopting an entirely new crop. The latter changes require new strategies for production and marketing adapted to new climatic and economic regimes, and therefore require a much earlier adoption than waiting for the last moment before definite failure. We must also realize that other processes of change, such as an ageing population, are taking place and affect agriculture too. And that they occur in an even shorter time frame than climate change. Farming communities have to adapt to such multiple changes and challenges at the respective temporal and spatial scales to be able to survive in future.
Thus, we try to offer the students the opportunity to see the multi-scale pictures in agriculture over a various time span when they learn about details of the processes taking place in the field and farming communities.
IPADS strives for practice relevancy and conducting research under real-life conditions. So can you mention an example of what this means concretely? What kind of experiences can the students make at IPADS in this respect?
Students will have experiences in the field and farming communities to learn about the natural and social processes at work in the "real world". Although it may be naïve to expect that understanding small-scale processes would help the understanding of large-scale issues such as food security in a whole nation, it is, nevertheless, crucial to be aware of the large gap between the understandings at different scales. We offer the students, for example, the opportunity to get to know the local farmers in person and learn about their experiences during Japan's economic development over the past decades and about their views of the local farming communities' lives and conditions.
IPADS is part of the University of Tokyo. How can students benefit from that?
The direct benefit for the students are the easy access to academic resources, e.g. libraries, labs, research facilities, and the excellence of the faculty members. It is not without a reason that the University of Tokyo has a reputation as Japan's top university in this respect. The indirect benefit would be to have colleagues from different cultures and academic backgrounds from all over the world. Most of these are opportunities, however, and the students must act by themselves to turn them into actual benefits.
Do students go abroad during their studies at IPADS?
I do not have an exact figure about this issue, but would say that it depends on the topic of their studies. Some of them bring their topic, or a range of topics, from their home universities, and continue to work on it here in Japan. But many others specify the topic during the first half year of the Master's course, and work on it for the rest of their study here. The research topic takes some students abroad, most likely to their respective home country. Others are required to stay in Japan to conduct experiments or surveys here. We only require that the topics the students chose to study are of international significance in agricultural development. The same holds for the PhD courses.
How many students have accomplished the studies at IPADS so far and what have they been doing since graduation?
Twenty students in total have graduated from the IPADS Master's course by now, and seven of them have proceeded to the IPADS PhD course. Three other Master's course graduates have proceeded to PhD courses at other graduate schools of the University of Tokyo, and two have enrolled in other universities. Thus, the majority of the graduates is still in the IPADS PhD course. One graduate holds a position at another university now. As we keep the IPADS Master's and PhD courses running, I expect more graduates to work for academic, governmental and non-governmental institutions and therewith contributing to sustainable agricultural development.
Professor Kobayashi, we thank you for this interview.
The interview was conducted by Alma van der Veen/ZEF